Dogs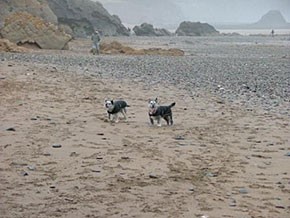 Your dogs are welcome at all of our cottages, assuming of course that they behave. We do ask that you do not leave your dogs unattended in the cottages.
Please bring their bedding and bowls
Listed below are the beaches where dogs are allowed:
Dogs on Beaches
All year dog friendly beaches (include) –
Summerleaze
Widemouth Bay (South Beach only)
Northcott
Sandymouth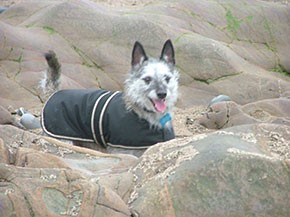 Beaches on which dog bans apply
From Easter Day to 1st October (include) –
Crooklets Beach
Widemouth Bay (North Beach only)
Crackington Haven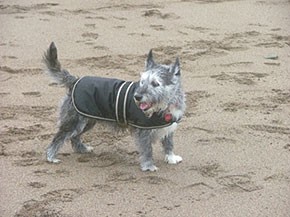 There are many walks that take you along the North Cornish coast.
Bude to Sandymouth 2.48 miles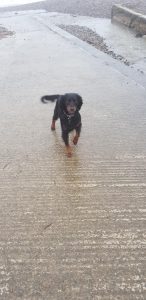 Starting from the main beach at Bude, you walk along a beautiful part of the North Cornwall coast to Northcott Beach, where you head inland for a while in the beautiful Cornish countryside with ample opportunity for you to enjoy the changing landscape of cliffs, fields, and beaches of this rugged coast. Along the way, glimpses of wildlife may be seen as well. You follow farm tracks to Sandymouth Bay, where you will find a welcome break to enjoy a leisurely picnic or refreshments at the small NT cafe, before restarting the walk along the rugged coastline and beaches.
Poughill – Bude – Northcott Mouth 4.97 miles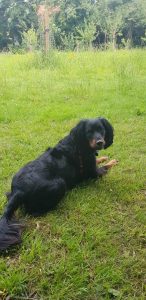 The walk starts from the pretty little Cornish village of Poughill (pronounced to rhyme with 'offal'). From here it's easy walking over tracks and lanes into Bude, an atmospheric family seaside resort that you may want to spend time exploring. When you're done, it's an easy stretch of the South West Coast Path, via the popular Crooklets Beach to the lesser-used beach at Northcott Mouth.
Then it's a short stretch along a typical Cornish hedged lane before the return via tracks and field-edge paths.
Marhamchurch – Widemouth Nature Ramble 2.80 miles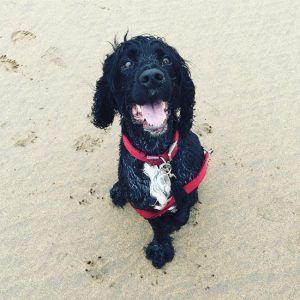 Our walk starts near the small Barge Museum at the Bude Heritage Canal site and after crossing the busy A39 and the Bude Canal follows peaceful footpaths across fields and newly planted woodland. Along the way, there is a variety of flora to see and many chances to catch a glimpse of some of the multitude of wildlife. After crossing the Widemouth road, this section of the walk ends at the popular surfing complex of Widemouth Bay, where toilets and refreshments may be found. Here you join the coast path for a short section before crossing the road again to another footpath across rolling fields on our return journey. Near the end of this section, you will have an opportunity of lunch or tea at the tea rooms.
Walesborough Woods: covering an area of twenty hectares, was newly planted in 2001 and a new footpath linking the canal towpath to the coast path was subsequently created.
Duckpool – Stanbury Mouth – Woodford – Combe Valley 4.97 miles
The walk starts in the lesser-known Cornish beach of Duckpool, on the north coast of the county. Huge golf ball-shaped domes and radio dishes form an unusual but interesting backdrop as you walk a short stretch of the South West Coast to Stanbury Mouth. Here you head inland and uphill to the quiet Cornish village of Woodford, before returning through the broadleaved National Trust woodland of the Coombe Valley.